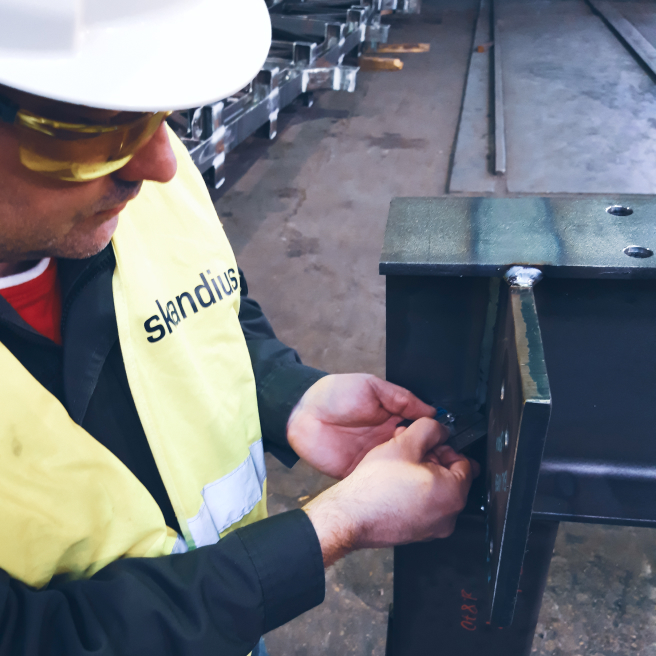 Skandius coordinates the delivery of steel and reinforced concrete structures from Poland to Sweden. All the manufacturers we collaborate with have the necessary certificates and years of experience.
We ensure that producers are aware of Swedish standards, such as AMA Anläggning or are registered in Sundahus or Byggvarubedömning. Our partners among concrete factories are certified by Swedish Nordcert.
Annually, we coordinate the delivery of approximately 6,000 tonnes of steel structures to Sweden.
Briefly about our work:
Our work starts when receiving an inquiry from you;
We analyse and translate the received documentation while we discuss the details of the project with you;
Depending on the scope and delivery date, we select the manufacturer that will submit an offer;
We negotiate the most favourable terms and prices with the manufacturer;
We present a quote that covers the agreed scope including the transport of elements;
Our coordinators participate in negotiations when you sign agreement with the manufacturer;
Our coordination extends from the time the documentation is prepared until the delivery at the construction site;
We control the flow of communication and pass on the necessary information;
We monitor the execution and punctuality of deliveries;
We visit the producer and control quality issues;
Reporting on the manufacturing process is also to our extent;
We handle the logistics of transports to the construction site.